Being in a couple does not mean that you have to abandon your hobbies. In fact, sharing leisure time activities with your partner can be a lot of fun and benefit your relationship. Couples who actively engage in hobbies will find that the time they spend together helps to maintain their connection. Here is a handy list of hobbies for couples to give you plenty of ideas!
Creative hobbies for couples
Getting in touch with your creative side is an excellent way of strengthening your bond with your partner. Whichever art form you practice, the act of collaborative creation can be incredibly illuminating. You don't even need to be good at it—the point is to have fun together,
1. Painting night
You do not need to be a professional artist to create a beautiful piece of art. Why not crack out the watercolors or oil paints, pour a couple of glasses of wine, and let your creative juices flow? Afterward, you can compliment each other's work and jointly decide where to display your masterpieces.
2. Learning an instrument
Embracing the musicality that is within you is an extraordinary experience. Gathering around the piano and playing and singing together in groups is great fun! I teach music lessons to a couple—piano to him and guitar to her. They love sharing their progress and playing music together when they get home.
3. Knitting
Although it has the reputation of being a pursuit just for elderly ladies, knitting is a surprisingly mindful and enjoyable hobby. Not to mention, you can knit each other cute gifts such as warm hats, gloves, and scarves for the winter months. If you have children with your partner or plan to have them, why not knit a baby's blanket together?
If you have children with your partner or plan to have them, why not knit a baby's blanket together?
Click To Tweet
4. Photography
If you love to take photos, you can make a photoshoot of your partner, and have them take pictures of you. Shooting portraits of each other can give you an insight into how you look through their eyes. You can combine photography with other hobbies such as hiking and picnicking. It will allow the two of you to capture romantic memories forever.
5. Life drawing
Although the idea of your partner staring at nude people may not sound like the most fun way to spend time together, live drawing classes are more popular among couples than you may expect! If you can't afford drawing classes, you can easily find free video tutorials online.
6. Writing stories
Why not write short stories and read them to each other? This can be a very intimate experience and give you a more in-depth insight into how your partner's mind works. One fun activity is to write the same story together, taking it in turns to write a sentence each at a time—the results can be surprisingly hilarious.
7. Pottery
We've all seen that famous scene in the movie Ghost. Your partner may not be Patrick Swayze, but why not put "Unchained Melody" on the speakers and enjoy this hands-on hobby? You never know, you may have a real knack for it and be able to display your crafts at home.
Hobbies for couples at home
Staying at home doesn't have to be second best. While a night out on the town can be thrilling, sometimes a quiet night in is just what you need to relax and enjoy your time together. Especially in the cold winter months, these indoor activities for couples can be extremely cozy and comfortable.
1. Redecorating
The pride you will feel when you and your partner create your home projects will be immense. Working and being creative together will help to cement your bond as a pair. Be sure to praise and compliment each other as you work side by side. It's not necessary to be perfect; what matters is the progress.
2. Wine tasting
Instead of heading out to vineyards, you can have wine tastings at your home with your loved one. The two of you could even start your own highly exclusive wine club. Check out internet reviews and choose a new wine every week to sample and enjoy together.
3. Cooking
They say that food is the way to a man's heart. I agree, but it is the same for women too! Cooking together can be relaxing, exciting, stimulate creativity, and lead to amazingly delicious results. You can have cooking theme days as well; Monday could be Italian day, Tuesday Mexican, Wednesday Korean. The possibilities are endless. There are many cooking videos on the internet that you can use as inspiration.
Working and being creative together will help to cement your bond as a pair.
Click To Tweet
4. Making playlists
Many couples have a song that they feel represents their journey as a couple. Choosing a soundtrack of multiple songs that you and your partner enjoy listening to is an activity that will never feel like a chore. Sit on the sofa and lean against each other as you create your playlist of tunes.
5. Movie night
Isn't it interesting how two people can watch the same film, but each has widely different opinions about the film's message? Having a movie night with your partner can add to the fun of enjoying films. Watching and discussing films together afterward is a fun way to debate and exchange ideas.
6. Video gaming
There is an abundance of video games available that allow you to play with or against your partner. Choosing an interesting multiplayer game is a great way to share your interest in gaming. Whether you are co-operating on the same team or trying to settle an old score, video games with your partner are always a lot of fun.
7. Vacation planning
Sometimes planning a vacation can be almost as fun as actually going on one! Even if you can't afford to go any time soon, planning your dream holidays for the future can be an enjoyable way to spend an evening. Planning a trip helps you prepare and arrange. It also gives you something to look forward to together.
Outdoor activities for couples
Time outdoors is not just good for your health; it is also a delightful way for you to spend more time with your partner. Not only being in nature is romantic, but getting out of the house can help you see your partner in a whole new (natural) light. Taking in the scenery together can be a truly magical experience.
1. Hiking
Outdoor hiking is a wonderful activity in which neither you nor your partner needs to be professionals at doing to enjoy. Everyone can walk, and nobody needs to be taught how to do it. Hiking is a chance for the two of you to forget about the day's problems and just focus on unwinding and breathing in the fresh air.
2. Camping
Camping is a popular and relatively inexpensive vacation option. A few nights huddled together in a tent for warmth can be surprisingly fun. Putting up a tent may be a test of any relationship, but sitting by a fire under the stars at night roasting marshmallows together makes it all worth it.
3. Sailing
You don't have to be a seasoned seaman to enjoy a boating trip! Canal or river boating holidays are trendy and for a good reason. If you and your partner fancy the sailor's life, hopping on a boat together is a great way to spend time. Just make sure that you take the right safety precautions!
4. Foraging
Foraging for plants and herbs can appeal to the hunter-gatherer in you, and not just if you're a man! There's something incredibly satisfying on a primal level about finding a tasty mushroom or aromatic herbs in the woods and adding them to a meal. Just make sure you do your research and avoid anything that might poison you.
Putting up a tent may be a test of any relationship, but sitting by a fire under the stars at night roasting marshmallows together makes it all worth it.
Click To Tweet
5. Frisbee
Frisbee is one of the easiest sports to get into. All you need is—well—a frisbee and a partner. As long as the two of you have access to open space to play, this sport can be fun and very easy to learn. Just don't get too competitive!
6. Gardening
Whether you are growing vegetables to eat together or simply planting pretty flowers for decoration, gardening can be a peaceful and fulfilling way to share time. If you don't have access to a garden, you can hire allotment space or even design an indoor garden of decorative houseplants!
7. Picnics
Fancy restaurant meals may be what you think of first when it comes to romantic dining, but a couple's picnic can get even more intimate (as well as cost a fraction of the price). If you plan it properly, you can turn an outdoor picnic into an entire afternoon's activity.
8. Urban exploration
Outdoor pursuits don't have to be limited to the countryside. If you live in the city and are feeling adventurous, exploring areas that you aren't familiar with can help you appreciate the environment you live in more. You may stumble upon hidden treasures like the perfect little cafe for an afternoon date!
Active hobbies for couples
There are plenty of physical activities you can do together as a couple to get your blood pumping (besides the obvious, of course). Physical exercise has plenty of health benefits, and having your partner there can provide support and encouragement for even the most challenging workouts.
1. Clubbing
The art of courtship has flourished through masquerade balls to professional ballroom dancing, to modern-day dancing in night clubs. Showing your best moves in the club isn't just for singles trying to attract a partner—once you are already coupled up, dancing with your partner can be a blast.
2. Dance classes
There are various dance styles such as salsa, ballroom dancing, tango, lindy hop, the sky is the limit! Learning to dance is more fun when you have a partner. The best part about taking a dance class as a couple is that you can practice at home and hug each other while you dance. So go ahead and sign up for those Argentinian tango classes that you always wanted to try!
3. Tennis
Tennis is a great sport to get into to keep active and social. Because it is played with two or four players, it is ideally suited to playing as a couple. You can either play against each other or team up and go head-to-head with another couple on the court. If tennis isn't your thing, other racket sports like badminton are a great alternative.
The best part about taking a dance class as a couple is that you can practice at home and hug each other while you dance.
Click To Tweet
4. Jogging
Jogging alone can be enjoyable for many people. However, some prefer to have a partner with them for moral support and encouragement. Not to mention, jogging can be unsafe, particularly at night. Going for a run in a scenic outdoor spot with your other half will be safer and much more fun.
5. Martial arts
While your mind may not jump to karate and Ju-Jitsu when you think of sports for couples, don't write off martial arts! Not only are martial arts great for fitness and personal safety, but they can also really build trust between you and your partner.
6. Cycling
Cycling is one of the best ways to get exercise and also to see new sights. It can also be a fun hobby to share with your partner and even strengthen your relationship. A Sunday bike ride is also a great family activity if you have any little ones!
7. Acrobatics
You don't have to dive off a trapeze to get involved with acrobatics. If you're looking to try something new, why not check out acrobatics groups in your local area? This activity can be a great way to connect with your partner doing something unusual.
Not all hobbies for couples have to be exclusively for two people. There are plenty of fun things partners can do together with friends or family members. Here is a list of hobbies that can be shared with other people.
1. Volunteering
Investing your time and energy in a worthy cause to help people in need is something you will rarely regret doing. Volunteering together is especially fulfilling when you do it as a couple. It will teach you collaboration and help you emerge as a team. Some of the happiest couples I've observed are people who regularly participate in volunteering at church and community events with their life partners.
2. Double dates
You and your significant other each have your friends, but sometimes it is nice to socialize with other couples and make new friendships. When you double date with other couples, you are building a community. There are plenty of things for couples to do on double dates, such as bowling, board games, baseball games, mini-golf, and picnics.
3. Karaoke
Whether you head out to a bar or stay home with a karaoke video game and an audience, singing karaoke can be one of the most fun things to do as a couple. Imagine belting out "Total Eclipse of the Heart" to show your friends what your partner means to you, or dueting with them on "Islands in the Stream"!
Volunteering together is especially fulfilling when you do it as a couple. It will teach you collaboration and help you emerge as a team.
Click To Tweet
4. Book club
Starting or participating in a book club is a great way to meet new people with similar interests. Favorite authors and new book releases are a great conversation starter. Even if you end up chatting about other things, it's an excellent way to build a social life outside your home.
5. Open mic nights
If you're feeling brave, why not showcase your skills together in front of an audience? Whether you are singing, playing a musical instrument, reading poetry, or doing stand-up comedy, open mic nights can be a lot of fun. Even if you both just watch instead of getting up on stage, open mic nights are a great way of meeting new people.
6. Improv groups
Improv groups probably aren't something you think of straight away when thinking of fun things couples do. However, improvising can be a thrilling new hobby and introduce you to a new community of friends. Going alone can seem daunting, but going with a partner can help with the first-time nerves and bring you out of your shell.
7. Dinner parties
If you've ever seen an episode of Come Dine With Me, you'll know just how entertaining dinner parties can be. As well as giving you a chance to showcase your cooking skills, the social aspect of dinner parties, and the thrill of entertaining guests can be a lot of fun.
Hobbies that make money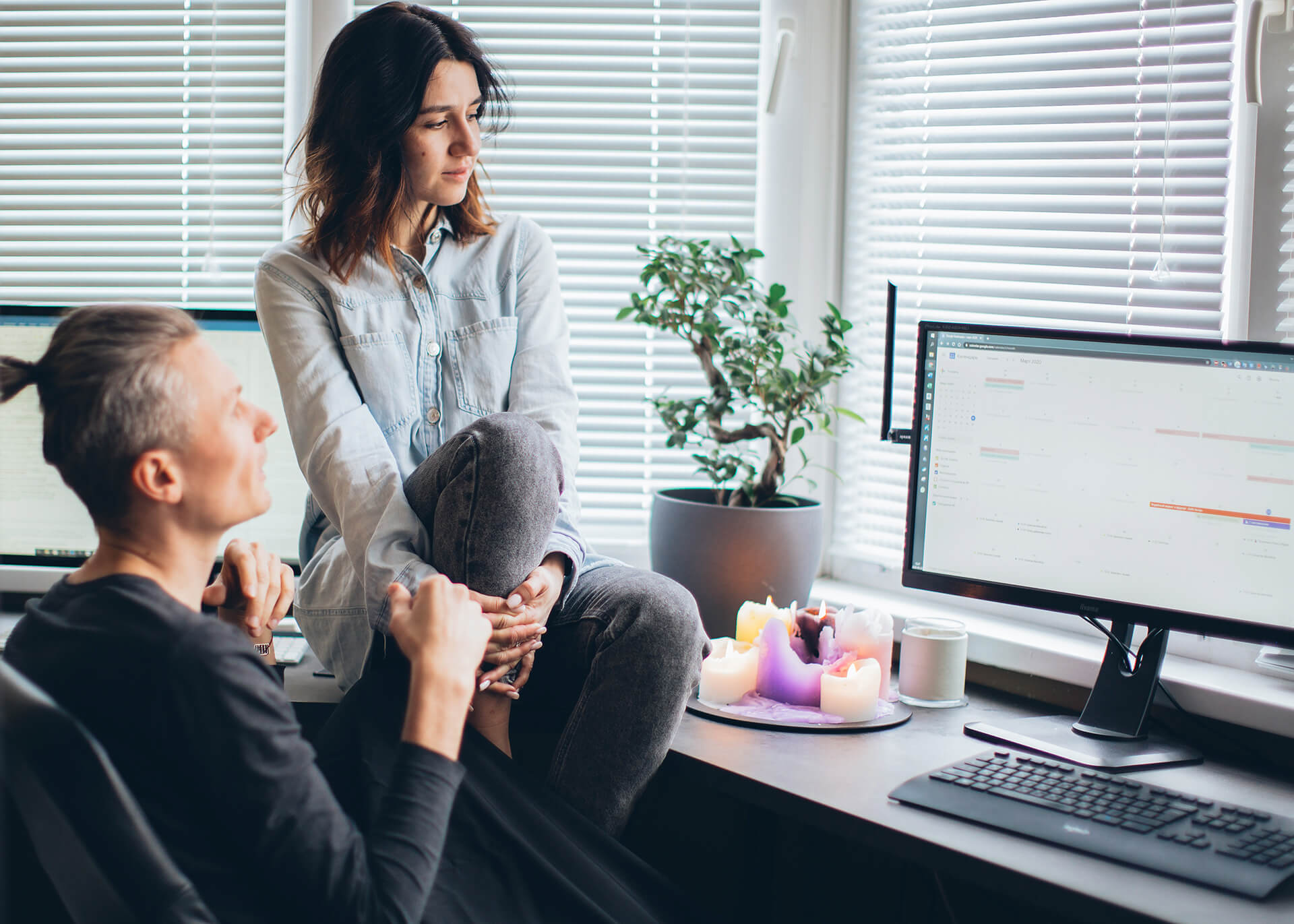 Moneymaking isn't usually something you may consider when choosing your leisure time activities. However, a hobby that adds a few dollars to your bank balance is a great bonus! You don't necessarily have to learn a new skill—you may already have shared hobbies you can monetize.
1. Collectables
As a couple, collecting items can be great fun as you add to your collection and watch it grow. I personally love collecting books, but you will have great fun collecting items you both enjoy. You never know—the things that you treasure could become gold mines someday.
2. Selling at flea markets
Ever cleared out the attic to find something you forgot you ever had? Not only can selling old items clear space in your home, but you can also pocket a bit of money for you both too. Why not spend those extra dollars on a nice meal out?
3. Youtube channel
As well as being a fun hobby, starting a YouTube channel can be very profitable if you are successful. If you create exciting and engaging content that attracts subscribers, you can make quite a bit of money through ad revenue. Couples' channels are incredibly popular—there are plenty of examples that you can check out on YouTube!
A hobby that adds a few dollars to your bank balance is a great bonus!
Click To Tweet
4. Blogging
As a writer, I love writing and reading blogs. Exploring blogs written by other people is one of my favorite hobbies. You can set up a blog as a couple and write about unique experiences or a passion that the two of you exclusively share. If you are determined to make some money out of it, some consistent work will be required, but you attract many eyeballs to your blog, you can earn from advertising affiliate products and placing ads on your blog.
5. Upcycling
Upcycling is one of the most useful hobbies for couples looking to replace furniture and make money. Upcycling is when you find or take a piece of old furniture and make it look good as new through restoring it. Even if you don't want to sell it on, you can team up and spruce up the furniture in your house for your benefit.
6. Baking
Making tasty treats is fun and even more enjoyable when you team up with your other half. Whether you bake something simple like flapjacks or design elaborate personalized cakes, baking together is one of my favorite bonding activities for couples. Besides, you get to share a tasty treat afterward.
Romantic hobbies for couples
Keeping the romance alive in a long-term relationship is not always easy. Sometimes you have to make a particular effort to spend quality time together and remind yourself what you love about each other. These next hobbies are great at keeping the spark alive!
1. Massage
There are so many benefits of massage! It helps you relax after a hard day, and it can be excellent foreplay leading to more intimate activities. Dim the lights in the room, use fragrant massage oil and show your love for each other through touch.
2. Trying new restaurants
Trying new restaurants together is an excellent way of allowing you to be adventurous and intimate at the same time. You and your partner can make eating together fun and memorable as you explore new cuisines and get to know each others' tastes. Finding a great hidden gem of a restaurant is one of the best feelings ever.
3. Drawing each other
Capturing your partner's body on paper or canvas can be incredibly romantic, even if you haven't practiced your drawing skills since elementary school. You never know, you could be the next Van Gogh. Think of it as your own private life drawing class, nudity optional but encouraged!
Massage helps you relax after a hard day, and it can be excellent foreplay leading to more intimate activities.
Click To Tweet
4. Writing poetry
What could be more romantic than comparing your loved one to a summer's day? Composing verse inspired by your muse is one of the most emotionally and artistically intimate ways to show them how you feel about them. Not to mention, poetry can help you to learn a new perspective on yourself and your partner.
5. Stargazing
Many people believe that constellations have deep and sacred meanings. Others simply believe that stars are an example of the beauty and majesty of the universe. Whichever side you and your partner fall on, gazing at the stars together is a romantic way to share your time spent clinging to a rock that is hurtling through space.
6. Reading the Kama Sutra
The Kama Sutra is an ancient Indian philosophical text that is most famous for depicting various sex positions. The book contains a wealth of information on all aspects of life, but most couples tend to skip to the sexy bits! Whichever you decide to do, it is a timeless text full of ancient wisdom on love and eroticism.
Inexpensive hobbies for couples
If you are short on cash and payday isn't until next week, fear not—there are plenty of fun things to do as a couple that won't break the bank. Here I have listed some inexpensive hobbies for couples to pass the time without spending a cent.
1. Birdwatching
If you have a garden, you may be oblivious to the range of wildlife that visits it. Keeping an eye open for different species of birds (or other creatures) can help you feel closer to nature and your surroundings. You can even turn it into a friendly competition—which of you can spot more different bird species?
2. Walking dogs
You don't have to own a furry friend to enjoy dog walking. There are websites where busy dog owners are looking for people to take their pups for walks. What could be better than a nice walk with your other half? Add a dog to the mix, of course!
3. Board games
Board games are among the most popular hobbies for couples, which doesn't seem likely to change any time soon. There is a board game to suit every couple, from new brain-challenging games to classics like Cluedo and Scrabble. Just beware—many arguments have been had over a game of Monopoly!
There is a board game to suit every couple. Just beware—many arguments have been had over a game of Monopoly!
Click To Tweet
4. Watching sports
Watching sports isn't exactly one of the most traditional hobbies for couples. A classic image is a man watching football on the couch while his partner can't wait for the game to finish. However, some couples enjoy sports, and going out to see games in person can be a great bonding experience if this is the case.
5. Jigsaw puzzles
If you fancy something a bit less competitive than a board game, doing a jigsaw puzzle together can be a great way to spend time as a couple. One incredibly romantic idea is to get a personalized jigsaw made, perhaps with an image of the two of you together.
6. Learning a new language
There are about 6500 different languages that are spoken in today's world. Learning a new language can be a fantastic bonding exercise for you and your partner. After you master the language that the two of you are learning, you can even plan a vacation to that country together.
Hobbies to treat yourself
Are you looking to splash out a little more and treat yourselves to something special? These couples' hobbies are usually a little more pricey, but you deserve to treat yourself every once in a while. Here are a few great ways of rewarding yourself with the small pleasures that you both enjoy.
1. Shopping
Shopping is more than a hobby; it is an art. While shopping for groceries and toiletries is a weekly or even daily occurrence, heading out on a shopping trip to treat yourself tends to happen less often. Why not take your partner along, and you can both buy each other a special surprise gift?
2. Day trips
A day trip is a great way to find hidden gems such as theaters, shopping malls, museums, lakes, and parks. Last summer, my husband and I visited a town one and a half hours away from our home. It was just a short trip, but it boosted our spirits. We took lots of great photos, had a lovely lunch, and bought a few treats from the local deli to take home.
3. Visiting the theater
Going to the movies is one of the most popular hobbies, but have you considered visiting a theater to see a play? Once in a while, it can be an excellent treat for the two of you to get dressed up and see a live theatre performance. Making a night of it and heading out for cocktails and conversation afterward can nicely round things off.
Once in a while, it can be an excellent treat for the two of you to get dressed up and see a live theatre performance.
Click To Tweet
4. Going to a concert
Live music concerts are one of my favorite personal hobbies. From local shows in bars to arena shows from international superstars like Madonna, my other half and I have seen our fair share of great concerts! Singing along to your favorite songs with your partner by your side is one of the greatest feelings you can experience.
5. Spa session
Spa sessions are an excellent way to pamper your partner. Visiting the spa together can be extremely relaxing even if you spend time apart, with one of you in the sauna and the other getting a massage. Meeting back at the end of the day, both feeling relaxed and rejuvenated, can stimulate your relationship.
6. Skiing
Skiing is none of the most adventurous hobbies for couples. It is a trendy choice for a vacation that will give you plenty of adrenaline. Apart from spending your time sliding down those slopes, you can take in the gorgeous mountain scenery, drink coffee on sunny terraces of the ski lodges and cuddle up together by the fire in cozy log cabins in the evening.
As a couple, the possibilities are endless about what the two of you can enjoy together! Work on finding common ground, and from your common interests, you can find ways to create hobbies that will help you bond and grow your relationship stronger.