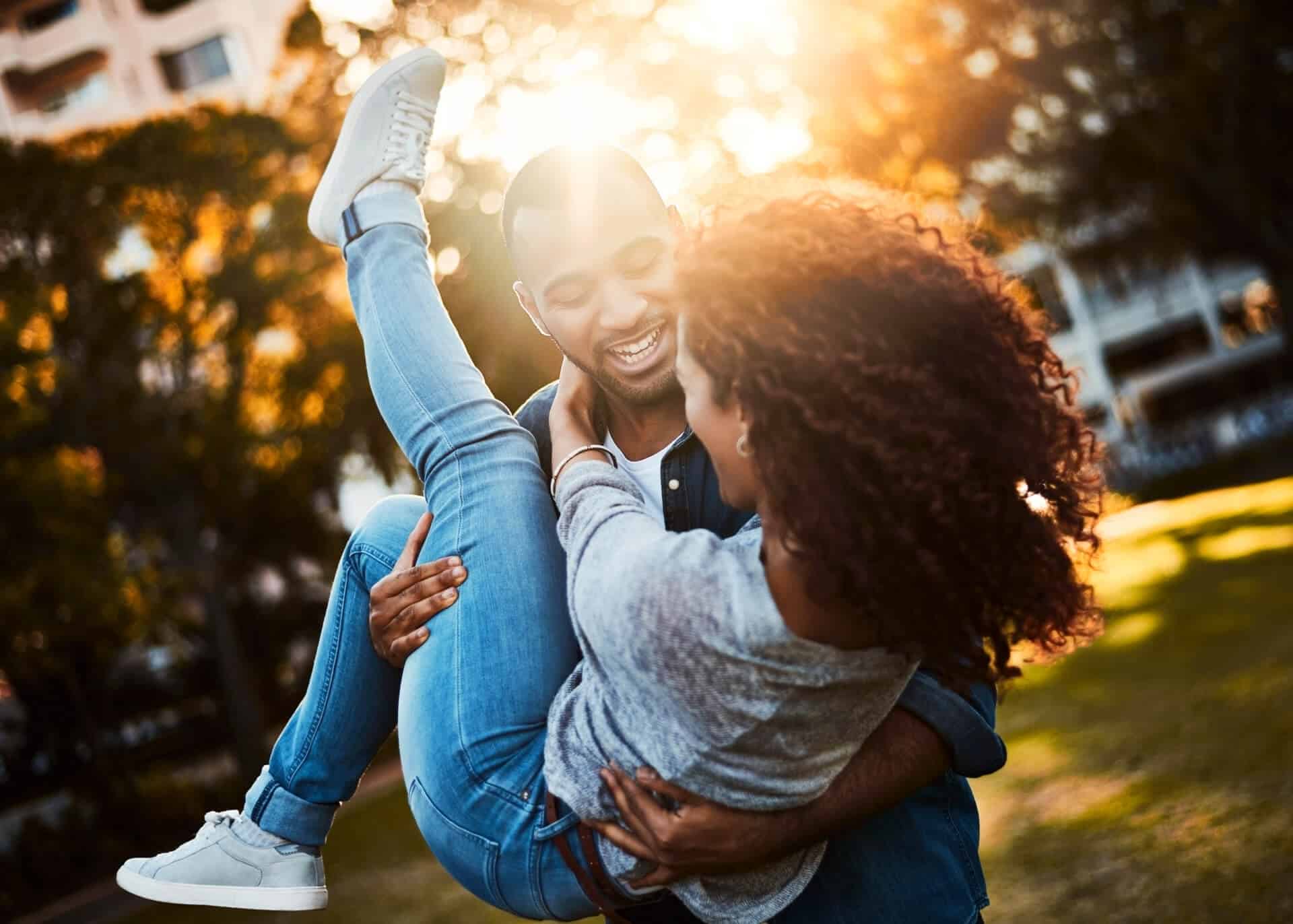 Spending time together just relaxing in each other's company is one of the best parts of a relationship. However, sometimes you can get tired of just hanging out doing nothing, and your girlfriend can get bored too. Do you want to do something fun with your girlfriend but can't think of anything? Here is a list of over one hundred ideas to choose from!
Romantic things to do with your girlfriend
When it comes to keeping the spark alive, there are plenty of romantic activities to enjoy together as a couple. For bonus points, feel free to accompany any of the following with gifts of flowers and chocolate.
1. Take a luxury bath together. You don't have to have a fancy hot tub or jacuzzi to share a comforting soak in the suds.
2. Take a sunset walk with her. Walking as the sun sets can be gorgeous and peaceful, but women are less likely to feel comfortable walking alone after dark. Why not accompany her so she can enjoy it too?
3. Learn massage techniques together. Mastering a new skill together can be a lot of fun, and she'll love you for this one when you give her a kind of back rub she wouldn't get from any other guy.
4. Take tango classes together. Dancing with your girlfriend can be one of the most enjoyable ways to spend an evening.
5. Start a campfire in the yard. Imagine sitting out together, toasting marshmallows on a summer evening. If you have enough time, you could even cook a whole dinner on an open fire.
6. Take her to a planetarium. If you don't have a clear view of the stars, why not visit a planetarium together?
7. Visit a local museum or art gallery together. This can be a great date if your girl is interested in learning about history and culture.
8. Take her to a drive-in movie theater. A movie theater is the classic date idea, but a drive-in theater can be even more romantic and offer a new experience.
9. Take her for a late-night drive to the beach. If you are lucky enough to live close enough to a beach, why not go for a stroll on the sand when it's dark and peaceful?
10. Adopt a pet together. If your girlfriend is an animal lover, this can be a great way to make her day — ensure you can look after a pet long-term!
11. Hire a tandem bike. Cycling together is not only great exercise but can also be a cute date. Sharing a tandem bike is even more romantic.
12. Pick flowers together for home decor. Not only is this an excuse for a walk in nature, but it also helps you decorate your home.
Creative things to do with her
Creative pursuits can bring you closer to one another. Some of these ideas involve materials and equipment, while others can be done with no supplies.
1. Have a face painting session. A face painting set can be bought from arts and crafts stores for just a few bucks.
2. Write each other a poem and then swap. All you need to show your love for her is a pen, paper, and imagination.
3. Start a vlog. Couples' YouTube channels are all the rage. Whether you get famous or have fun together, this can be very rewarding.
4. Paint each other's portraits. Show each other how you look through each other's eyes.
5. Fill out an adult coloring book. Adult coloring books are a great way to have a good time together without leaving the house.
6. Make a scrapbook. What could be a more romantic couple's activity than documenting your relationship and treasured moments together?
7. Write a song together. It can be highly fulfilling if one or both of you has a musical instrument.
8. Make homemade decorations. Home decor is often expensive and impersonal. Why not make your homemade crafts? It will be cheaper, reflect your personality, and be a fun indoor activity.
9. Write a couple's bucket list. Why not spend an evening thinking of everything you would love to do together one day?
10. Do some flower arranging in the yard. If you are lucky enough to have a yard that you can decorate, flower arranging can be a great way to spend time together outdoors.
11. Plan your next couple's Halloween costumes. Even if Halloween is a long way off, costume planning can be a lot of fun.
12. Build a piece of furniture together. If you have some DIY supplies and skills, why not build a coffee table, chair, or other furniture with your girlfriend?
13. Try upcycling together. If building furniture from scratch sounds a little advanced, decorating and repurposing an existing piece of old furniture can be just as satisfying.
14. Make each other mixtapes. Of course, creating Spotify playlists is pretty easy. To make things extra special, why not record and decorate a physical mixtape or CD for each other and swap them?
15. Take a life drawing class together. If your girlfriend is a budding artist, life drawing classes can be an excellent gift, and you can compare your drawings at the end.
The way to a girl's heart is often through her tastebuds. Cooking your girlfriend a special meal is a cute gesture, but sometimes treating cooking as a shared activity can bring the two of you even closer together.
1. Make pancakes and toppings together. Pancakes are one of the most fun dishes to make as a couple, and toppings can be savory (e.g., bacon) or sweet (e.g., ice cream).
2. Make sushi together. There are many different sushi types, so why not be adventurous?
3. Cook a pizza and choose toppings together. Whether you use a pre-made pizza base or knead your dough, homemade pizza is always a blast. Why not bake one pizza each and compare them over a glass of wine?
4. Have a burrito night. It can be tasty and fun if your girlfriend loves Mexican cuisine.
5. Prepare a traditional Sunday roast dinner. A Sunday roast is a time-honored English tradition. You can choose from various vegetables and meats.
6. Plan a bake sale together. If you love baking together but don't want to fill up on pastries, why not plan a bake sale?
7. Visit a farmer's market together. You can find all kinds of organic, homegrown food at farmer's markets. Visiting them on the weekend is undoubtedly more fun than a typical supermarket.
8. Try growing vegetables. If you want to feel in touch with nature, planting vegetables together can give you some delicious homegrown food.
9. Host a dinner party together. Sometimes you want to share your culinary skills with others. Inviting a couple of friends or family members or for a dinner party is a classic couple's activity for a reason!
10. Go fruit picking outdoors. Although you should avoid picking fruit from people's private property, you may be surprised how much you can find in public areas and nature trails.
11. Test different aphrodisiacs together. Certain foods are either proven or rumored to increase the sex drive. Why not test each of these foods out together and see what happens?
12. Try a "progressive meal." Put a different twist on the romantic dinner date! Visit one restaurant or cafe for your starter, enjoy your main course at a different establishment, and treat your girlfriend to ice cream or another dessert somewhere else.
Fun things to do on a budget
Running short on funds? Not to worry! There are plenty of fun things to do with your girlfriend that won't break the bank. Most of these things are completely free!
1. Dress each other up in drag. Swapping each other's clothes for an evening can be a great way to make her laugh. You can even let her style your hair and apply makeup if you're extra brave.
2. Plan a themed board game night. A board game night is a classic date, but why not make it your own by dressing up as the characters while you play Cluedo or Monopoly with treats or favors instead of money?
3. Have a costumed karaoke competition. Karaoke is a great way to have fun on the cheap, as there are plenty of free karaoke backing tracks online. Dressing up as your stars of choice using household clothes and items can make it even more exciting.
4. Build a fort in the living room. Instead of taking a tent outside camping, why not simply make your fort in the living room together? Just leave out the "No Girls Allowed" sign.
5. Learn to dance at home. All you need to learn to dance is some floor space and access to the thousands of free YouTube tutorials that can teach you classic dance styles or the latest Tik Tok moves.
6. Sort through items to donate to charity together. Sometimes you need to clear out unwanted household clutter. Instead of being an annoying chore, doing this together can be a fun way to pass the time.
7. Make a 3D jigsaw puzzle. Instead of a traditional jigsaw puzzle, a 3D puzzle can be much more fun for couples to tackle.
8. Check out thrift stores or bookstores together. If you love shopping but don't have much to spend, thrift stores can be full of hidden treasures for meager prices.
9. Go to a playground after dark. Why not bring out your inner children? After dark, playgrounds are likely to be empty, and the two of you can play on swings, slides, and seesaws together.
10. Take her to an animal shelter. Even if you don't have the money or space to own a pet, visiting a local animal shelter will give your girlfriend a chance to meet and play with cute furry friends.
11. Go for a relaxing drive with her favorite music on the stereo. The simple act of driving in lovely scenery can be peaceful and romantic. Combined with her favorite tunes, this is one of the most underrated cheap date ideas.
12. Try volunteering together. Volunteering can be extremely fulfilling, and doing so with your girlfriend can make it even more enjoyable and worthwhile.
13. Go on an IKEA sightseeing trip. IKEA stores are popular for couples and families to visit. Even if you can't afford to buy anything, exploring the exhibits and planning your future dream home can teach you much about each other.
14. Build and fly kites together. Flying kites is one of the best things to do on a windy day, and homemade kites are cheap and not too difficult to make.
15. Team up to take on a crossword or sudoku puzzle. Puzzles such as crosswords and sudoku can be great ways to use your combined brainpower as well as relaxing.
Fancy things to do with her
Sometimes you feel like pushing the boat out a little. If you are looking for more luxurious date ideas, these treats can really make her feel special.
1. Stage a photoshoot together. Hiring a photographer to take professional snaps of the two of you is a great way to spend time together.
2. Go bar-hopping. Going out on the town to sample different bars is one of the most fun things you can do as a couple on a Friday or Saturday night.
3. Set up a cocktail bar at home. If your girlfriend loves fancy cocktails but prefers a night into a night out, why not buy ingredients and make different cocktails at home? You can even both get dressed up and make a real occasion out of it!
4. Go to a local stand-up comedy show. Instead of watching the latest stand-up specials on Netflix, checking out comedy in your local area can be even more entertaining.
5. Check out a new local musician or band. If music is more her thing than comedy, you may be surprised how many great artists are playing in your local area.
6. Book a hotel just for the night. Sleeping away from home can be a romantic adventure. Why not share a luxury hotel room for one night, just for fun?
7. Take her on a luxury shopping spree. If you are lucky enough to have plenty to spend, your girl will love you for taking her on a shopping spree to her favorite fancy outlets.
8. Explore your hometown as tourists. Living in a town can often mean you ignore interesting sights right under your nose!
9. Go ballroom dancing. Ballroom dancing is one of the most romantic and elegant ways for a couple to spend time.
10. Take a trip to the theater. If you want to be extra cultured, why not get dressed up to see a show at your local theater?
11. Go on a wine-tasting tour. Give her the chance to indulge her inner sommelier on a classy vineyard tour.
12. Go for a day at the races. A day at the races is not just a chance for the two of you to dress sharply—it can also be exhilarating to watch the sport.
13. Take her on a city break. If you have a weekend to spare, visiting a new city and soaking in the culture can be an excellent mini-vacation idea.
14. Have a home SPA night. You don't need to go out to pamper your girlfriend. Why not invest in some luxury spa products to use together at home?
15. Have oysters and champagne night. Why not indulge in gastronomic pleasures and have a night of luxury treats at home? Order a box of fresh oysters, chill a bottle of sparkling and dress up for the occasion. Candles and soft background music are mandatory.

Thrilling things to do with her
Is your girlfriend the adventurous type? These ideas are great for thrillseekers if you want to get her adrenaline pumping on a date.
1. Go skydiving together. Skydiving is one of the most exciting things you can do, and a couple's tandem skydive is also pretty romantic.
2. Go mountaineering together. Taking a hike together is surprisingly intimate, and climbing a mountain will reward you with stunning views at the top.
3. Try wild camping. Camping out in the wild can be much more exciting than staying at a campsite.
4. Take up badminton together. Racket sports like badminton are ideal hobbies for couples.
5. Check out an escape room. Trying to break out of an escape room is a lot of fun. It will test your ability to cooperate.
6. Learn figure skating together. You don't have to be the next Torvill and Dean to have a wonderful time skating as a pair.
7. Try online workout videos together. If you struggle to get motivated to try home workouts alone, tackling them as a couple can help you to support each other.
8. Ride a rollercoaster. Theme parks are very popular, but not everyone will have the guts to ride the biggest rollercoaster. Why not give it a go as a couple?
9. Go bungee jumping. Nothing helps build trust better than a tandem bungee jump.
10. Try out white water rafting. One of the most adventurous sports, white water rafting is an excellent choice for thrill-seeking couples.
11. Go zorbing. In case you haven't heard of zorbing, it involves rolling downhill inside a giant inflatable ball. It's just as fun and crazy as it sounds.
12. Take her to a skate park. Skating is not only a good exercise but can also be a brilliant bonding experience.
13. Go indoor rock climbing. While climbing rocks outdoors can be dangerous and requires buying equipment, indoor rock climbing centers can allow you to climb together safely and easily.
14. Go go-karting. Go-karting is extremely fun and guaranteed to give both of you an adrenaline rush.
15. Explore an abandoned building. The important thing to remember is to make sure the building is safe and no longer in use, but this can be a real shared adventure if this is the case.
Fun things to do long-distance
Just because you are not with your girlfriend in person doesn't mean there aren't plenty of fun things you can do together! You can use video calling software to keep in touch and share any of these activities.
1. Have a virtual movie night. You don't have to be on the same couch to watch your favorite movies simultaneously.
2. Talk with your girlfriend while taking a walk. Agree on the time that suits you and go for a walk while talking on the phone. It is not the same as a romantic walk holding each other's hand, but it is a creative way to spend some time together in a long-distance relationship.
3. Cook the same meal together. Choose a recipe, and each cooks your version of it simultaneously. This is an excellent way to spice up your meal routines.
4. Watch your favorite artist in concert together. Instead of a movie, why not find your favorite concert film or live performance on YouTube and watch it at the same time?
5. Read stories to each other. Reading aloud to your partner can be very intimate, and she will love hearing the sound of your voice.
6. Plan your future dates. Just because you aren't together now, this doesn't mean you can't spend an evening planning your dates for when you reunite. This gives you both plenty to look forward to.
7. Correspond with letters. Although texting and instant messaging are much more convenient, the art of writing and sending a love letter can be a lot more special.
8. Play drinking games. You can play plenty of drinking games over a video call, such as Would You Rather and Battle Shots.
9. Take online quizzes and compare results. There are loads of online quiz sites where you can answer quizzes and compare your results with hers.
10. Go exploring on Google Street View. Why not explore somewhere together virtually over video call? You can even choose your next vacation spot.
11. Find your dream home. Go through house listings and look for a place you'd love to call your own. It doesn't matter if you're not in a situation to buy a house. It's still a lot of fun, and you can write down all the ideas you come up with for the future.
12. Play Truth or Dare. Not sure what to tell you if you don't know how to play this classic game!
Sexy things to do with your girlfriend
Getting intimate with your partner is an important part of a relationship, but even your love life can become a routine. These suggestions will give you ideas to heat things in the bedroom or elsewhere.
1. See how long you can kiss. There are few things as exciting as an extended kiss. Challenge yourself to see how long you can stretch a single kiss. And maybe the one who pulls away first has to do something nice for the winner.
2. Play twister. A game of Twister will bring you two in close contact and get your bodies all twisted together. You can spice the game up by getting rid of some of your clothes — or all of them.
3. Make a rose petal trail. Imagine her coming home to find a trail of rose petals leading from the door to a bed covered with them. That'll set the mood for an intimate night.
4. Spend the day in bed. Don't feel like getting dressed and leaving the bed in the morning? Don't! Spend a lazy day in bed, watch your favorite TV series, have a conversation, or whatever else you might come up with.
5. Get a couples massage. Laying next to each other at a spa and getting the knots worked out of your bodies is a great way to get you both in the mood. You might even learn some massage techniques to use on her.
6. Go on a double date. Bringing a couple of friends along for a date can spice up the night when you share some risque stories. As a bonus, hearing about the experiences of another guy can help you be a better boyfriend.
7. Go skinny dipping. It can be quite a heart-pounding experience to shed your clothes and dip into a secluded pond or river. Make sure others can't see you, and remember to avoid water with strong currents when skinny dipping.
8. Send steamy text messages to each other. A flirty question is an exciting way to connect with your girlfriend, whether you're far away from each other. Receiving a text detailing your plans for her once she gets home can spice up her lunch break, for example.
9. Spend the night at a hotel or B&B. A change of scenery can ignite a different spark than doing the same things at the same place. You don't have to travel far — getting a room in your hometown hotel can add a new twist to the night.
10. Write a naughty bucket list. You both will most likely have a list of things you'd like to try but haven't. Why not write them down in a list you can reference whenever you're feeling adventurous?
11. Make love in every room. Do you always get down and dirty in the same place? Shake things up by moving to another room. It can add to the thrill with minimal effort. Just make sure there are no other people in the house first.
12. Pick a raunchy couple's costume. Dressing up for an occasion can be fun. Why should getting intimate be any different? Pick matching sexy costumes that cater to your fantasies, and get ready for a steamy night.
13. Draw on each other. Get some soft-tipped pens that wash off with water and use them to draw or write on each other's skin. For example, you could mark your favorite spots on your partner's body or scribble down what you'd like to do with them.
14. Do an intimate photo session. Immortalize your more sensual moments in photographs. And no, you don't have to throw off your clothes for the camera. Posing in fancy clothes in a romantic setting can make for intimate photos.
Things to do outside with your girlfriend
Seasons keep changing, and each brings fantastic opportunities for one-of-a-kind outdoor activities. Here are some cute date ideas that give you quality time with her while exploring the great outdoors.
1. Tour local breweries. If your hometown has craft breweries, touring them together lets you bring out your inner food critics while getting comfortably tipsy together.
2. Go on a picnic. A romantic picnic is an age-old fun date tradition for a good reason. Sharing a tasty snack and a bottle of bubbly while surrounded by gorgeous nature will create an unforgettable memory.
3. Take her for a walk in the rain. Rain creates a special mood, so grab your biggest umbrella and go for a walk. She'll love sharing a romantic, cinematic kiss in the downpour, especially when you have a comfortable place to get dry afterward.
4. Go to an isolated beach. Visiting a remote beach is a great way to have fun without other people ruining it. You get to look for a nice isolated place and figure out how to get there before getting it all for yourselves. Talk about an intimate setting!
5. Visit a corn maze. Corn mazes are popular once-a-year local events, and visiting one makes for a great special date before an autumnal gathering, like a Halloween party or Thanksgiving dinner. It's also a great opportunity for a sneaky, romantic kiss between the hedges where no one can see you.
6. Go to an amusement park. Ride a rollercoaster to get your blood pumping, or kiss her at the highest point of a Ferris wheel ride. There are a lot of fun, new adventures at an amusement park.
7. Go stargazing. Fall is the perfect time for a romantic night under the fancy night sky. Spot shooting stars, try to remember all the constellations, or cuddle up on a blanket.
8. Tour local farms. Seeing where your food comes from strengthens your appreciation for the area where you've decided to build your home. Playing with cute farm animals and maybe knocking off some items on your grocery list are just bonuses.
9. Visit each other's hometowns. If you are not from the same place, you can better understand your partner's background by visiting where they grew up. Seeing their old school and meeting each other's friends from childhood can help you appreciate each other more.
10. Try ice skating. If one of you already knows how to skate, you can have a great time building trust as the more skilled partner teaches or other. Or, if skating is a new hobby for both of you, you'll share a laugh while slipping on the ice together.
11. Swing at a driving range. You can have a good time at a driving range, even if neither of you plays golf. It's a fun and creative way to get out of your comfort zone and try something new — even if you keep swinging past the ball!
12. See each other's favorite band live. Sharing a live music experience at a dive bar or a huge stadium is thrilling. Even if you have opposite tastes in music, don't let that put you off this date idea. Music often sounds better live!
13. Recreate the first date. You both remember your first date, so why not recreate it? And if you've been together for some years and your first date seems a bit hazy, this will be a fantastic opportunity to refresh your memory.
14. Check out escape rooms. Solving an escape is a fun bonding opportunity that has you put your brains together. It's also a great chance for you to show off your deduction and problem-solving skills.
13. Have a snowball fight. When suitably wet snow covers the ground, why not chuck some snowballs at each other? It can be a fun wintertime exercise, and you'll also have a perfect excuse to snuggle up under a blanket to warm up after you're done.
Things to do with your girlfriend at home
Maybe it's rainy or cold out, or perhaps neither of you feels like hitting the town. That's alright. Here are a few ideas for fun and exciting things you can do at home to entertain yourselves and bring you closer together.
1. Build a scale model. Building miniature models requires concentration and attention to detail. It's a fun teamwork exercise with you working together to finish a complex project.
2. Create a couple's playlist. Music can be an intensely personal matter. Make a shared playlist that you can listen to at home or on car rides, and you can get a surprising glimpse into each other tastes. Just remember, compromises are important in relationships — let her add some songs she loves, even if they might be far from your favorites.
3. Have a chore day. Chores must be done, but doing them together can make them less grueling — and even fun. Clean the house, fix that leaky sink, and finally fold those sheets that have been sitting in the hamper for half a week. Getting your hands dirty and tidying up your shared space can be a great bonding moment.
4. Prepare a candlelit dinner together. Eating a romantic meal at a restaurant is nice, but having it at home can breathe fresh air into a familiar environment. Cooking dinner to your tastes and eating with some soft music and delightful conversation makes for an intimate date night.
5. Work out at home. Spending a day indoors doesn't mean you need to be a couch potato. Help each other do some body-weight exercises. You get to be close to each other while working toward your fitness goals.
6. Play board games. There are so many board games out there than just chess and Monopoly. Explore more obscure games, and you might discover a delightful, shared hobby.
7. Make a sweet treat for each other. It doesn't matter if you like the same or different things. Making something yummy for each other is a great way to show that you care. Try whipping some hot chocolate, baked goods, or whatever else you enjoy.
8. Watch alternative movies. A movie date night is a time-honored classic, but you add a twist to it with a foreign or indie film. Cuddle on the couch with some popcorn for a unique movie experience, and share your thoughts about the film afterward.
9. Take an online cooking class. Learning to cook a new meal is fun — not to mention delicious. You don't need to leave the house to take a cooking class either. There are plenty of options online, or you can follow along with a recipe video.
10. Climb up onto the roof. Have you ever seen the view from the roof of your house? Climb up together to watch the sunrise, sunset, or the stars, or see your neighborhood from a new perspective. Remember to be careful with the ladder!
11. Plan for your next dates. Surprise dates are a thrill, but a well-planned outing can also become an unforgettable date. Spend a few hours thinking of what you want to do in the future, and you'll both have something to look forward to.
12. List what you like about each other. Gaze into your partner's eyes and take turns listing all the cute things you like about each other. You'll come out of the whole much more in love with one another.
13. Window-shop online. Browse different storefronts and websites for things you'd like to own together. Even if you're not looking to buy anything, you'll get great ideas for what you like in terms of furniture and decor that can help you once you need things for your shared home.
14. Daydream together. One of the most fun things you can do with your girlfriend is to cuddle and share your dreams. Tell each all the things you'd like to do, places you'd like to see, and adventures you want to experience. Take things even further and start writing things down to make a bucket list for your future.
Now you have plenty of ideas to give you inspiration for your next date. Choose the activity your girlfriend loves most, and have fun together!